Canyon Shooters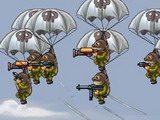 Návyková střílečka Shooters. Vžijete se do role supervojáka parašutisty, který s padákem na zádech a zbraní v ruce projde tvrdými boji.
Ovládání: pohyb - a,s,d,w, střelba - myš, zbaně - q,e,
Spuštění: 1 607x | Hodnocení: 3,8

chocopie | 07:31 21.12.2018 | Hodnocení: 4
TKe1L4 Looking forward to reading more. Great article.Really thank you! Cool.
i6t4CVVYXmg | 07:01 4.12.2015 | Hodnocení: 5
Brett Thanks for sharing this! I look at my wednidg photos everyday when I'm walking around our home and I love them to no end. When we had our engagement session I told you that the photos were off the chart important to me and you reached and exceeded my every expectation for providing us with amazing photographs. The wednidg pictures we have will always bring me back to the day that Kevin and I got married. So thank you for taking these two photographs and realizing your calling because I do not believe that anyone could have captured our day the way you did.
EmyvDAVUjZXB | 22:50 7.9.2012 | Hodnocení: 4
Too bad there wasn't any pictures of the girl in the brongacukd she was the hottest costume, hottest legs just the best of everything all around! She was a firegirl! smokin hot! sorry dear i didnt mean to rain all over your picture youre cute too!
AOaXXzVmWIRV | 05:23 16.1.2012 | Hodnocení: 4
If you wrote an article about life we'd all reach enlgithenmnet.
UYsKxjNBQdwRRBhCNJv | 12:17 3.7.2011 | Hodnocení: 2
Your article was excellent and erdutie.