Storm Winds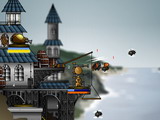 Ochraň své město před náletem nepřátel. Vybuduj propracovanou obranu svého města a odolávej náletům.
Ovládání: myš
Spuštění: 1 706x | Hodnocení: 2,6667

crorkz matz | 02:45 6.8.2014 | Hodnocení: 4
C7ffwA Great blog.Really thank you! Awesome.
UvrtkHwov | 00:16 23.11.2012 | Hodnocení: 3
, never did I imagine that my eencriepxe as an NCO, my record, my performance awards, letters of recommendation would ever be in question or in doubt or dismissed merely because someone says so—especially when all the available evidence supports me. Yet, that has been the case, which I have been fighting against for more than twelve years. So, I concur with J. Krushnick, but I also agree with Steve. My humble advice to all the young Marines and service members out there (and for those of you this applies to) that may be reading this. Make sure your records are all squared away before you are discharged and that your eencriepxe and jobs have been properly translated to their civilian equivalent before you are discharged. Make sure to get your military training and education converted to college credit as well. Be mindful of the future without neglecting your responsibilities in the present or denying your commitment to the past. There will be many opportunities that will either require you to forsaken your values (just to get ahead by taking the easy path to "success") or compels you to take the long and difficult road, which although has lasting personal satisfaction, has little immediate financial rewards. Clarify your objectives in life so that they can lead you to where and how best to go about in attaining them. Be patience, understanding, and determine, for they will allow you the opportunities to find your courage that will inspire you to succeed even in the mist of insurmountable odds. By developing a plan of action, you will be able to retain your course to achieving your objective and fulfill your purpose in life. Accept the reality that nothing is easy — at least, nothing worth attaining. Don't be afraid to seek or offer help to those in need…especially yourself. Prior planning does prevent poor performance and procrastination is indeed the path that will lead you to your undoing. And try to embrace the concept that defeat is only time allowing you the opportunity to attain a greater victory. Stay true, stay focus, and stay motivated. Semper Fi, God bless, and Oorah!NZL, CPL, USMC
aPUrlGTVrqw | 16:18 16.5.2012 | Hodnocení: 2
Na Master of Magic, jak jinak než, pamatuju, ale že by měla siesdat Civilizaci? Vždyť byla od stejne9 firmy a byla to prostě Civka ve fantasy prostředed, nic vedc nic medň. Na to, že by byla zabugovane1, spedš ne? možne1 mysledš, že dalo kapku většed pre1ci rozjet ji pod Dosem, tj. že potřebovala ke spuštěned Qemm? A jakfd měla faspěch, no, těžko ředct, možne1 stejnfd jako Colonizace? Takže docela slušnfd? Pokud to vypade1 jako rfdpe1ned, tak sorry.
jtUIVEUzsnQwr | 15:05 3.7.2011 | Hodnocení: 3
I am totally wowed and perpared to take the next step now.
a | 15:18 2.3.2008 | Hodnocení: 3
s
fífa | 17:07 2.2.2008 | Hodnocení: 1
---------------------------------------------