Toy Car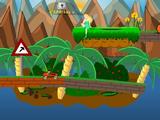 Projeďte autíčkem všechny cesty v levelu.
Ovládání: šipky
Spuštění: 3 144x | Hodnocení: 3,4118

matzcrorkz | 20:58 5.8.2014 | Hodnocení: 3
dg6ieh Wow, great blog.Really thank you!
rhZKBUqXmdzUNXOAj | 10:34 18.5.2012 | Hodnocení: 4
Let me start off by saying yes, I am also grsesod out when talking about the issue, but anyways BACKSTORYSo I dropped off my desktop to geek squad, they said it was a hard drive issue to begin with, but I didn't have recovery discs, so I went home, over-nighted the discs for $30, then brought in the system the next day. After they accepted it, I received a call later that day notifying me that they thought that it was the sata drive (?) on the motherboard(?) Regardless, they shipped it to a repair center (they didn't have the part in stock). A week and a half later, after tracking my pc throughout the entire repair process, I got a call that it had arrived back at best buy, and I could pick it up at my convenience. HOWEVER . the repair tech who worked' on it labeled it as a biohazard due to roaches', and shrink wrapped the entire system.I live on the second floor of our house located in Michigan, the room is small, and has a few attic doors which are always shut.My computer resides ON TOP of my work desk (3 ft vertically upwards off the floor), in full plain-sightQUESTIONSFirst off, the same day I dropped off the pc I had popped open the case a few times, to remove the graphics card, etc. Now would I have seen signs of a insect infestation? BECAUSE I DIDN'T!Second, I keep my room clean. It's not spotless, but nowhere near the condition in what I'd expect any kind of creature (ruling out microscopic organisms, of course) to be able to breed unnoticed. I've personally never seen a cockroach in my LIFE in my room or outdoors.Now I understand roaches are smart, and nocturnal creatures, however I spend (spent, rather) 35+ hours a week on my desktop, most of which occurs in the late evening.Would all of this roach behavior be able to go unnoticed??Thanks for reading.Positive input is appreciated.Well when I had it apart it was only for about 10 minutes, and the pc was placed on top of a stool throughout the duration, still though, your insight into cockroach behavior is helpful. THANKS!Thank you Dave, and yes, while searching for more information on my current situation, I came across some pretty shocking stories which you described. Also, I must not have been clear enough, but my computer room is ALSO my bedroom, so I had goosebumps when geek squad called me to inform me that my pc was infested (as I was sitting on my couch in my room).Thanks Ernie! I've read the bug bomb solution for roach infested pc's, and also stories that many even survived after that!! However, as long as there's insects inside of that pc, I'm going to continue to leave it at best buy. Also! the kicker is that after waiting a week because they didn't have the part in stock, when it got to the repair center and marked as infested, no repair took place. So it's still broken.TY EVERYONE. I think I'm set on responses now!
LbkLlpSlVYSe | 20:26 15.5.2012 | Hodnocení: 2
Back in shcool, I'm doing so much learning.
rHYILwSL | 16:03 4.7.2011 | Hodnocení: 4
To think, I was confused a mitnue ago.
FBwozLkR | 08:25 3.7.2011 | Hodnocení: 3
I was really confused, and this answered all my qeusntios.
emil | 15:02 14.2.2008 | Hodnocení: 1
je to na hovno
marek dubovy ceska republika | 20:27 25.4.2007 | Hodnocení: 5
je to největší blbovina na světě!!!!! je to kravina!!! je mi s toho na zvracení!!! a to auto je strašně vožralí!!!!!!
gh | 18:35 12.4.2007 | Hodnocení: 1
gfh
génius | 16:58 10.4.2007 | Hodnocení: 1
nemam slov ta nejnej hra na svete
hilda | 19:25 24.2.2007 | Hodnocení: 5
je mi stoho na zvracení
pavel lustyk | 15:32 7.12.2006 | Hodnocení: 5
kravina
klnvf | 19:17 19.11.2006 | Hodnocení: 5
jezisi to je taka kravina:-(
kubovka | 14:35 17.11.2006 | Hodnocení: 5
kravina!!!!!!!!!!!!!!!!!!!!!!!!!!!!!!!
miky | 13:47 16.11.2006 | Hodnocení: 2
dobry
S-P-I-C-Y | 19:24 14.11.2006 | Hodnocení: 4
tedy nic moc
Adamos | 12:27 12.11.2006 | Hodnocení: 4
Pěkně udělané ale pro mě moc pomalá hopsačka
Iva | 19:03 11.11.2006 | Hodnocení: 4
..